Greenscape Solar Shading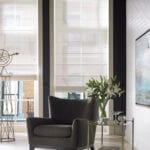 Definition: Eco-Friendly, adj. Not harmful to the environment; intended or perceived to have no harmful effect on the natural environment and its inhabitants. Both businesses and individuals alike are committed to taking initiatives that reflect our mutual and growing concern for the environment and support the principles of sustainable development.
Whether it is reducing greenhouse gas emissions, reducing, re-using & recycling at every opportunity, each of us share the environmental responsibility in preserving our planet. This commitment is one which is constantly evolving with new green initiatives. We are pleased to feature and introduce the green initiatives and NEW product developments made in window coverings, by our strategic partners.
Our environmentally responsible GreenScreen fabrics deliver superior solar control with the most color and openness choices in the industry. All deliver the durability and dimensional stability you demand, with flame retardants that meets the strictest international standards. (Download GreenScreen Info Sheet (http://www.hunterdouglascontract.com/windowcoverings/Downloads/GreenScreen-FabSelector.pdf) A complete range of designs — A wide variety of colors, openness factors, and weaves PVC-free and sustainable — Recyclable and environmentally safe to produce Superb performance — Outstanding thermal and solar properties Durability — Dimensionally stable weave will not sag or stretch, ensuring excellent shade looks and operation LEED experience – GreenScreen fabrics have been specified on numerous LEED-related projects.
EcoScreen®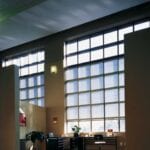 SunProject introduces its "new" line of sustainable Eco-Friendly Fabrics. SunProject "GREEN ASSURED" ECO-Friendly FABRICS
No PVC
Low Volatile Organic Compound (VOC's)
Natural daylighting = a more productive, improved workplace environment
Optimum Solar Protection
Combine Thermal Performance and Visual Comfort
Reduction in solar gain = Energy Savings
Reduces A/C loads Energy Efficient, Two Colored Fabric
These series of fabrics is a special designed 2 colored fabric construction
Dark color inside the room provides excellent view through fabric
White color facing the outside reflects heat and improves shading co-efficiency
This fabric is ideal for solar and heat control